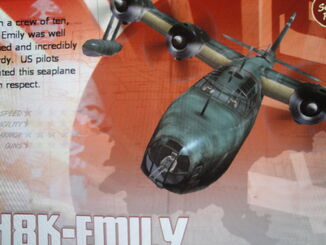 "Whit a crew of 10 the Emily was well armed and incredibly sturdy. US Pilots treated this seaplane whit respect"Emily Description
NEW! Platinum Med Stat and Platinum Stat for 5 or 4.5 stars and SUCK MED STAT or SUCK STAT for 1 or 0.5 stars.
Emily unique version stats:
Speed: SUCK MED STAT
Agility: SUCK STAT
Armor: Platinum Stat
Guns: SUCK STAT
The Emiliy is an unusable plane, only usable from LAN and Instant Action. The Emily is useful for taking USN and IJN carriers in LAN and MULTIPLAYER.