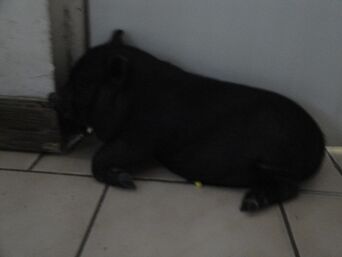 The Pet of the Wiki is a Pig, For more info:[http:// Pig Pig ] in Wikipedia. This pet was declared official by the leader in August 14, 2011.
The Sell and sadness
Edit
The pig is now on sale, and has been sold, but however we have this photo before being sold.
Possibilty of Death
Edit
There is a low probability that the costumer was a costumer from a Meat Shop. This is a low probability.
Election as Pet of the Wikia
Edit
In an vote in my neighboorhood there was other 2 animals that can be elected and the votation ended:
Mister Piggy: 25 votes
The Dog of the Demon: 13 votes
The Extreme Hedghedog: 5 votes
Frequent Questions
Edit
1. Why a Pig?
A: Why not?
2. Does smell bad?
A: No unless you not clean in 4 days.
3. Why do you have a Pig?
A: To sell it but it was a Pet to me.